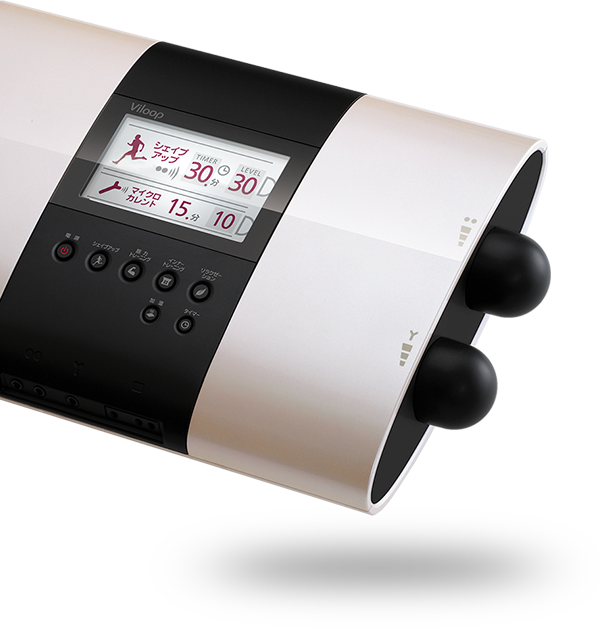 Latest model EMS that warms and tones
Differing from existing EMS, Viloop operates powerfully and effectively on inner muscles, which are deep muscles, using "high frequency complex waveforms".
Further, incorporating a "1/f" tremor into relaxation mode and micro-current mode reduces proficiency and maintains a pleasant stimulation to the body.
6 Functions in 1 unit
There are four EMS function modes: "Shape up" and "Muscle training" modes and, additionally, "Inner training" mode, which tones deep muscles, and "Relaxation" mode, which activates muscles gently. Further, there are also a built-in "micro-current", which uses a V stick for face care, and a "heating" function that encourages perspiration by warming the body.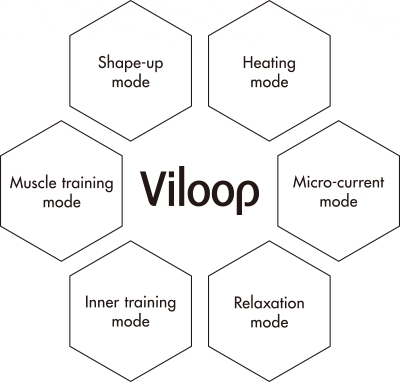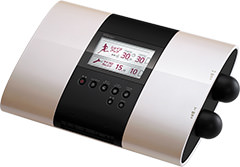 Main Viloop Functions
Product name
Viloop
Power supply adapter
100 VAC, 50/60 Hz
Rated voltage (main unit)
24 VDC
Power consumption
45 W
Dimensions/Weight
Main unit
Approx. 350 mm (W) x Approx. 230 mm (D) x Approx. 100 mm (H)/1.5 Kg
V stick
Approx. 152 mm (W) x Approx. 43 mm (D) x Approx. 16 mm (H)/0.1 Kg
Heating pads
Approx. 320 mm (W) x Approx. 220 mm (D) x Approx. 20 mm (H)/0.6 Kg
Frequency
1 to 500,000 Hz (square wave)
Surface (when using the heating pads)
High approx. 50ºC, low approx. 42ºC
Timer
Shape-up, muscle training, inner training, relaxation
40 mins./30 mins./20 mins./10 mins.
Micro-current
15 mins. (auto OFF)
Heating
30 mins. (auto OFF)
Safety device
Connection check circuit/Abnormal current detection circuit (EMS)/Abnormal heating prevention circuit (heating)/Broken wire detection circuit (heating)
*Surface temperature is the value calculated using conditions conforming to JIS-C-9210. (Value with urethane 50 mm thickness, total surface heating, room temperature 20ºC.)
Safety Precautions
(In addition to the following, make sure to read the user manual.)
[Danger]
Combined use with other medical electrical devices risks the effects of mis-operation, so do not combine uses.
(1) In vivo implanted medical electrical devices that are easily subject to electromagnetic interference such as pacemakers, implanted defibrillators, etc.
(2) Mountable medical electrical devices such as ECGs, etc.
(3) Medical electrical devices for maintaining life, such as heart‐lung machines, etc.
(4) Other medical electrical devices
Not to be used by people diagnosed with heart disease, or for whom daily stimulative exercise is restricted.
[Warning]
People with the following conditions should avoid use.
-Acute illnesses (pain disorders) -Fevers and tuberculosis -Abnormal blood pressure -Communicable diseases -Malignant tumors -Venous thrombosis -Heart disease and heart impediments -People with angina -People who suffer easily from purpura or other internal hemorrhaging -People whose bones break easily; e.g., osteoporosis -People with other diseases -Pregnant women (including pre- and post-natal) -Women who are pregnant or might be pregnant
-People with the following skin diseases and inflammations, or in whom such conditions occur easily
Atopic dermatitis, People with particularly sensitive skin, Dermatitis caused by cosmetics, Inflammation due to sunburn, Inflammation due to acne, Other skin diseases -People with wrinkles or pathological wrinkles that are itchy or have hot flashes -People using steroidal hormones long-term or who suffer capillary dilation due to impaired liver function -People with epilepsy -People with multiple sclerosis -Breastfeeding mothers and people caring for those who cannot express themselves
*Outpatients should consult their physician before use.
[Warning]
Avoid use on the following parts.
-Eyeball -Around the ears -Head -Oral cavity -Genitals -Stomach during menstruation -5 cm min. top, bottom, left, and right of the Adam's apple (thyroid cartilage) -Around the heart -Open wounds -Areas of inflamed skin due to sunburn, etc. -Areas of suppuration or inflamed skin -Parts where there are metal, plastic, or silicon, etc., embedded in vivo
*Outpatients should consult their physician before use.